Nampa Business Accelerator
Origination Room, Computer Lab
Nampa
Web Site
Class will be held on the Boise State West Campus. Directions: take I-84 to the Garrity Exit. Take the Garrity Exit and head north. Go past the car lot, Wal-Mart and the Idaho Center. After the Idaho Center, you will cross a set of railroad tracks. Immediately after the tracks, there will be a right hand turn-that is E. Terra Linda. Turn right and continue down Terra Linda. When you reach the traffic circle, continue right. Its a one-story building to the right. The 3-story brick building is the academic building and is not the right space. Parking is free in front of the building. If you go to the academic building, parking is not free.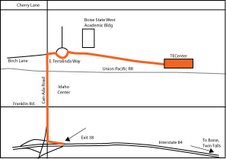 Events
Fri 9:00 AM to 4:00 PM
Fee: $ 100.00
Fri 9:00 AM to 12:00 PM
Fee: $ 65.00
Fri 1:00 PM to 4:00 PM
Fee: $ 65.00
Find More Events....